2013   PROGRAM  REPORT
INTRODUCTION        
 2013 remains a remarkable year of robust community presence for us in life of Health and Life International (HEALIN) in keeping with our vision and mission. Within the year, we made laudable progress in community development through articulate design and implementation of laudable community based health programs- particularly in Malaria and HIV/AIDS prevention in communities across five South-East States, Bayelsa and Rivers States, Nigeria. In the five South-East States of Abia, Anambra, Enugu, Ebonyi and Imo, malaria prevention community social mobilization was successfully implemented across communities in the States. In the area of HIV/AIDS prevention, HEALIN implemented programs in Bayelsa and Rivers State.
In Rivers, HEALIN implemented HIV Minimum Prevention Package Intervention (MPPI) in Port Harcourt and Obio/Akpo Local Government Areas of Rivers State – with Prison Inmates and Out of School Youths as target groups respectively. In Bayelsa, we also successfully carried out HIV Prevention of Mother to Child Transmission (PMTCT) in six communities in Yenagoa Local Government Area.
However, the projects were implemented in partnership with other organizations and support from donors as follows:
United States Agency for International Development, USAID – for Enhancing Nigerian Capacity for AIDS Prevention, ENCAP; The project is a five years (2010 – 2014) project under the coordination of Family Health International, FHI360 as the project sub-awardee.
Pact Nigeria – for Prevention of Mother to Child Transmission of HIV (PMTCT).
Global Fund Malaria Project – through Society for Family Health (SFH) – for Malaria Prevention and Control Community Social Mobilization.
Apart from the three major projects, HEALIN also mobilized resources which were put into other community development outreaches through networking and collaboration. Below are further details of the projects implementation:
HIV/AIDS Prevention.
In February 2013, HEALIN signed a partnership agreement with FHI360 for the implementation of ENCAP project in Rivers State- with Out of School Youths and Prison Inmates as target populations.  As a result, the HIV prevention intervention was implemented in three project sites in Port Harcourt and Obio/Akpo Local Government Areas.  However, the project sites were Port Harcourt Maximum Prison for prison inmates, Kala-iron rod market and Eagle Cement community for Out of school Youths. The objective of the project was to reach 2500 prison inmates and 500 Out of School Youths with HIV Minimum Prevention Package Intervention, (MPPI) through Peer Education strategy – from February to November, 2013.
 Project Implementation
The project implementation began proper with advocacy visits to community leaders in the three project sites and was followed with open community meeting. Both project activities were carried out in order to create community awareness and gain the supports of community leaders and members for the project. Also, community members were trained as Peer Educators who carried out the HIV prevention peer education sessions for community members- thereby reaching them the HIV Minimum Prevention Package Intervention.
Successes and Achievement
In all, a total of 2834 persons (2385 prison inmates and 449 Out of School Youth). Accordingly, there is no gainsaying the fact that a reasonable level of behavior change towards better living and HIV prevention in particular has been achieved among the persons reached with the HIV prevention intervention in the three project sites.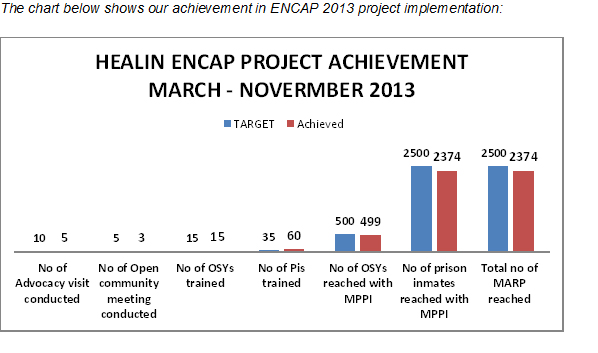 Success Stories – Testimonies From Community Volunteers (Peer Educators).
In Port Harcourt Maximum Security Prison, the PEs reported a great rise of interest among their cohorts in the peer sessions. According to one of the PEs, Pastor Arthur Johnson, his peers rated the session on life skills as one of the best education model they ever received. As he reiterated, "many peers that I met opened up to say that one of the best education they have been given in life is the HEALIN's Programme package.  From my first PEP training, which has to do with life skills which involves Goal setting, Decision making, self-esteem, values and negotiation skills, I was able to discover that the inmates were able to have an in-depth knowledge of and access to knowing and placing so much importance on things and activities which they must place value on in order to set their priorities right".
Similarly, Peer Educators who spoke in one accord during 2013 ENCAP project implementation stakeholders meeting held at Port Harcourt Prisons, attested that the project so far has impacted positively to their lives- they have learnt so many things as regards HIV prevention particular and life skills in general.  According to PEs in Port Harcourt Prisons, some of the cohort members who do not have secondary education have enrolled in prison secondary school and four of the PEs have also enrolled in National Open University of Nigeria as a result of positive effect of life skills aspect of the peer education.
One of the PEs, Mr Adebisi Adebayo said before ENCAP intervention in the community, the level of Men Sex Men incidence was very high but due to the awareness that there is high risk of HIV infection through such sexual behaviour, there is a drastic reduction in its occurrence. He said the game Snake and Ladder game section was very interesting. It helped those who were not literate enough to understand the other sessions to get the HIV prevention message. Having understood the message on goal setting, many of the inmates who were not keen on learning any skills were now registering for tailoring and carpentry and other skills
On his own part, Engr Akin Babalola who is also a PE, praised Health & Life for the effort to educate the prison community about HIV/AIDS. The PE observed that there might be need for a review of the information on the flipchart to include some recent developments in the area of the dreaded disease. John Patrick added to this by thanking Health & Life for giving him a new lease on life. He said he had been lost in the valley of ignorance but this programme has exposed him to so much information that he feels he better than 'the uninformed out there'. He said learning to set goals, decision-making, refusal skills, negotiation, and building self-esteem has made him better off. He encouraged the funders and implementers not to quit because this project will save many lives.
Pastor Arthur Jonson, another PE in the Port Harcourt Prisons, in another testimony, said he learnt from the few months of training that Health & Life carried out in the prison that the 'Most At Risk' population could be found in the prison. He thanked the NGO for helping himself and many others to move from the 'I never knew it' group to the group that know and can do something about their situation. He concluded that the impact of HEALIN's coming on the Port Harcourt Prison was simply impressive and worth commending.
In his own testimony, Mr Ifeanyi Angel Nwaogu, one of the Out of School Youths PEs in Eagle Cement said that, the community members who never wanted to do HIV testing and counselling are demanding for it now because of the positive effect of the project's Minimum Prevention Intervention Package, MPPI among the community members reached.
Prevention of Mother to Child Transmission of HIV (PMTCT)
In order to contribute to the reduction of Mother to child transmission of HIV (MTCT) in Bayelsa State, Nigeria, HEALIN signed a two years 2013 (2013-2014) partnership agreement with PACT Nigeria on 15th of March 2013 for Pact PROMOT project – a Prevention of Mother to Child Transmission (PMTCT) based project with special emphasis on community uptake of Anti-Natal Care among women of reproductive age. Pact Nigeria is part of PACT Inc., a United State non-profit corporation. 
Project Implementation
HEALIN presence was positively felt across six communities in Yenagoa Local Government Area of Beayelsa States – as members of the communities were successfully reached with messages of PMTCT in particular and HIV prevention in general. The communities were: Biogbolo, Korama, Ogboloma, Okolobiri, Opolo and Tombia. Accordingly, the project implementation started with baseline survey in the target communities. Through the baseline survey, the knowledge of community members on HIV prevention in general and PMTCT in particular were assessed. Also tour of facilities was made during the survey to Primary Health Centers (PHCs) in target communities to ascertain availability and usage of PHC for Anti-Natal Care among women of reproductive age. Among other things, it was discovered that number of women who go for Ante-Natal Care (ANC) during pregnancy which is the bedrock of PMTCT, was very low and they also preferred delivery through Traditional Birth Attendants (TBAs) to PHCs. TBAs in the target communities were also visited during the baseline survey.
The baseline survey was followed by advocacy visits to community leaders in the target communities and open community meetings and outreaches. During the open community meetings and outreaches, community members were selected as Peer Educators. Also, HIV testing and counseling was conducted for community members.
Accordingly, the project was implemented in line with Nation Prevention Plan (NPP) with Peer Education and Home Visit as the major strategies. Both strategies- through Behaviour Change Communication (BCC) were geared towards creating demand for ANC for PMTCT in particular and HIV prevention in general.  As a result, the selected community members were trained as Peer Educators (PEs); Among the PEs were Community Health and Extension Workers (CHEW) and Traditional Birth Attendants (TBAs). The trained PEs reached community members in the six project target communities with messages of prevention mother to child transmission and HIV prevention in particular. Also, home visits were made to households in the six project target communities. Through the visits, community members were reached with messages of PMTCT/HIV prevention, Ante-Natal Care and Post Natal Care.
Successes and Achievement
The following graphs show the number of persons reached with HIV/PMTCT, ANC messages, HTC during community outreaches and number persons reached with MPPI during CHEWs peer sessions in the project target communities: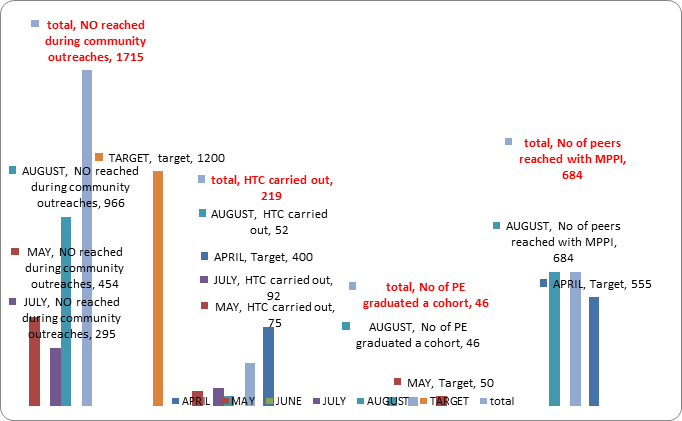 Increase in Health Facility Deliveries.
The total number of deliveries by TBAs before the intervention were 87 while there were only 77 deliveries at the Health Facilities. After the intervention, there were 38 of deliveries by TBAs and 182 at Health Facilities.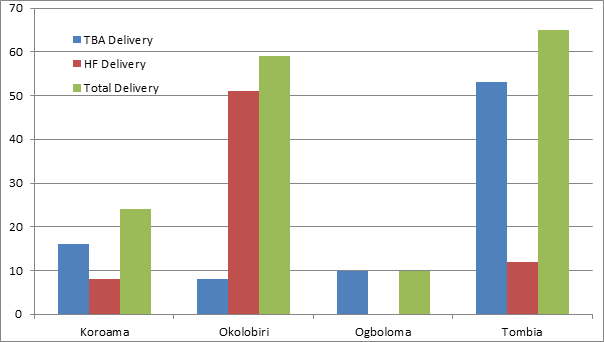 The graph above compares the deliveries carried out by TBAs and in Health facilities in HEALIN four target communities in Yenagoa Local Government of Bayelsa State. The statistics taken for the above graph are from January to April before the PROMOT project.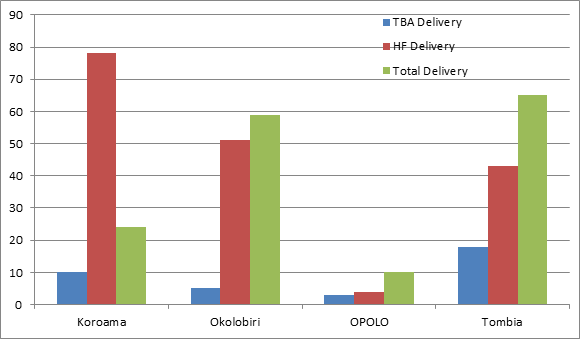 The above bar chart shows the drastic change in the deliveries taking place in the Health Facilities and TBAs. In Tombia for instance, the percentage change in favour of Health Facility is 34% increase while in Opolo where almost 100% of deliveries were carried out by TBAs has now witnessed a change in attitude.
 Global Fund Malaria Prevention Project Background
HEALIN also recorded significant achievement in community development within the year under review in Malaria prevention and control – by participating in Global Fund Round 8 Phase 2 Malaria Prevention Project.  In May 2013, HEALIN signed a partnership agreement with Society for Family Health (SFH) for the implementation of the Global Fund Malaria Prevention Community Social Mobilization- Roll Back Malaria in five Nigeria South Eastern States of Abia, Anembra, Ebonyi, Enugu and Imo. In of the project implementation, 20 partner Civil Society Organizations (CSOs) were successfully engaged across the five States. HEALIN also carried direct implementation in Abia, Anambra and Imo States while supersizing the implementing partner CSOs.  The objectives of the project were as follows:
Increasing awareness and practice of malaria control and prevention in the community to 80% of the present intervention rate.
Increasing informed demand and use of malaria prevention, diagnosis and treatment products/services through well-articulated community based social mobilization and advocacy activities so that an increased percentage of households in the communities within the 5 states will become aware of the causes of malaria through our community mobilization effort.
80% of the population within the area should be able to recognize the symptoms of uncomplicated malaria.
A higher number of the general population should become aware of and sleep under LLINs.
Increasing the proportion of the population who know when the mass distribution of LLINs will hold within their areas and appreciate the importance of accessing their LLINs through the avenue.
However, below are further details of the project implementation in-line with the above objectives:
Project Implementation
Within May and December, 2013, we successfully implemented four quarters the project across communities in the five States. The implementation proper started with advocacy visits to community leaders, religious leaders, heads of schools and primary health centers in the benefiting communities. As a result, a reasonable level of community acceptance of the project was gained.
Consequently, members of the communities were reached with the malaria prevention and control Behaviour Change Communication – through community social mobilization with community drama and health talk as activities.  With the community social mobilization, malaria prevention and control (Roll Back Malaria) strategies in-line with national malaria control plan, were effectively communicated to the community members. The strategies are as follows:
Prompt malaria diagnostics with use of Rapid Diagnostics Test (RDT) and appropriate treatment with Arterminisin Combined Therapies (ACTs).
Consistent and appropriate use of Long Lasting Insecticidal Nets (LLINs).
Intermittent Preventive Treatment for malaria in pregnancy.
Integrated vector management; environmental management.
However, after the first two quarters of the project implementation, HEALIN saw the need for demonstration of RDT to community members during social mobilization. As a result, RDT was introduced by SFH as part of the social mobilization activities base on HEALIN's recommendation. By introduction of the test, malaria test administered to community members – those that tested positive to malaria were referred to SFH affiliated facilities where they can access ACTs at a well subsidized rate.
Successes and Achievement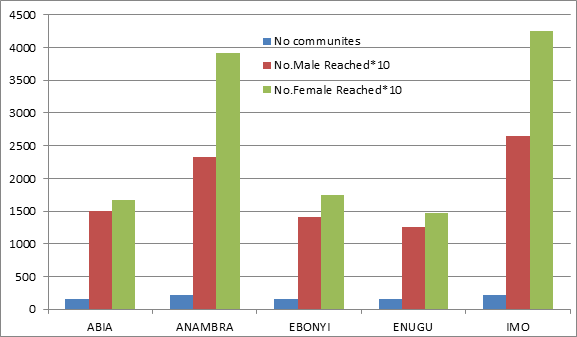 Other Collaborations and Networking
 Aside the Donor driven projects, HEALIN also in the year under review, mobilized resources for community empowerment in Port Harcourt Maximum Prison. The empowerment in the Prison community was informed by a need assessment conducted with the Prison authority which a pressing need for Blankets and Plates for Inmates. To address the need however, HEALIN successfully mobilized resource by collaborating with Eliada Residency Association, Rumuogba, Port Harcourt, Rivers State, which it is a member and provided the items for the Prison Inmates.
 In similar vein, HEALIN in collaboration with Senator Ikechukwu Abana Fundation, carried out community free medical outreach in Enugu-Ukwu, Njikoka LGA of Anambra State. Through  the outreach, people from various villages across Njikoka Town were given treatment in the following areas:(link not found)
As we look forward to year 2014 for more robust progress in community development – in line with our vision and mission, we remain grateful to our Donors and Partners for keeping faith with us. We are also grateful to our Board and Staff for their support and commitment.