Health and Life International (HEALIN) with D-U-N-S Number 850549420, is a faith based Non-governmental organization established in 1995 out of the concern for the deteriorating health standard of rural dwellers in most African and developing nations and got officially registered with CAC Nigeria on the twenty-fifth day (25th) of June, 2004.
HEALIN has deployed enormous human, technical and financial resources to the service of communities by a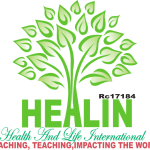 ttending to various health needs of the less privileged in particular and the society in general. Some key areas of interest in which HEALIN has focused her interventions include Community Health Care, HIV/AIDS, Reproductive Health, Prevention and Treatment of Malaria, Women and Youth Empowerment, Maternal Child Health Care, Democracy advocacy and Human Rights Promotion.
In a world where it is said that "Health is Wealth" HEALIN seeks to sensitize, provide health education, as well as conduct medical diagnosis and treatment of common ailments and diseases as much as feasible based on its capacity and resources, with special interest on preventive health of women and children
Health and Life International (HEALIN) has carried out various intervention programs in collaboration with some state Governments and Donor Agencies over the past decade. Some of the most notable intervention programs are in the area of Community-based Medical Outreaches, HIV/AIDS prevention Intervention, malaria prevention, Advocacy and Community Mobilization Campaigns for the prevention of Mother-To-Child Transmission (PMTCT) of HIV, as well as Behavioral Change Communication Intervention (BCCI), for out-of-school youths, uniformed service-personnel, including staff and inmates of Nigeria Prison Service, Nigeria Police Force, Female sex workers, Men and women of reproductive age, etc.
While our work spans over 2500 communities in about 10 States of Nigeria, we have been privileged to partner with UNICEF, World Bank, Pact Nigeria, Society for Family Health (SFH), FHI360 (ENCAP project), Shell Petroleum Development Company (SPDC), NYSC, some state Government including Bayelsa , Rivers, Delta, Akwa Ibom, Ebonyi, Anambra, Imo, Abia, Benue, Enugu Governments and many other notable individual, corporate organizations, churches and our parent body Embracing the Nations Ministries Inc. USA. Our reputable Board of Directors provides governance and oversight.
A society where information and services are accessible to all.
To improve access to information and services for quality life style in rural and urban communities through mobilization of resources.
Hospitality
Innovation
Versatility
Integrity
Teamwork
THE BOARD
HEALINhas a nine (4 men and 5 women) man qualified board members with reliable professional backgrounds, development and college circles.
HEALIN ACHIEVEMENT
HEALIN through her work has contributed in reduction of the spread of HIV/AIDS epidemic through intensive anti-AIDS campaigns, MPPI strategies, prevention messages especially on ABC, etc.
HEALIN promoted positive health-seeking behavior among Prison Inmates, Out of School Youths, TWs, USM and Commercial Sex workers that enhanced public health and improve negative attitudes that sustain ill-health.
Enhanced and facilitated community ownership of her projects.
Towards the end of the HIV intervention in some communities, HEALIN formed and registered two Community Based Organization that created an enabling environment for behaviour change and program sustainability
Increased Behaviours conducive to the prevention of HIV/STI transmission among MARPs
Improve the quality and expand the availability of services, including strengthening counseling and testing for HIV, reducing mother-to-child transmission and strengthen the monitoring and evaluation capacity of its Nigerian partner organizations.
Prevent new infections by promoting abstinence and faithfulness
Trained and empowered community Social Mobilization Action Team (SMAT) to carry out prevention of HIV strategies in the communities, especially PMTCT.
Enhanced and built the capacity of the target community health workers and stakeholders for PMTCT.
Strengthen community support and leadership commitment and increased male involvement in prevention of mother-to-child transmission of HIV (PMTCT) especially among target communities.
Reduced stigma and discrimination against HIV positive mothers and subsequent restored theirs hope and confidence within their communities
Created demand for ANC, HCT, PMTCT and family Planning, There is now a high demand for these services among the community members
Increased and promote grassroots knowledge/awareness and reduced misconceptions about HIV/AIDS (especially around modes of transmission and means of prevention) among target groups and their respective communities and have enhanced self esteem
 Health and Life International is currently implementing:
 Social Mobilization on Global Fund Roll Back Malaria Intervention in 5 south east states (Imo, Abia, Enugu, Anambra and Ebonyi) Fund by Society for Family (46 Million).

ENCAP an FHI360 project on sexual prevention among Staff and Inmates of Port Harcourt and Ahoada Prisons in Rivers state.(6.8 Million),

PROMOT Project; Pact Nigeria project in Bayelsa among Men and Women of Reproductive age (10 Million)

RIVSACA PMTCT Global HAF round 2 project (20 Million)